Updates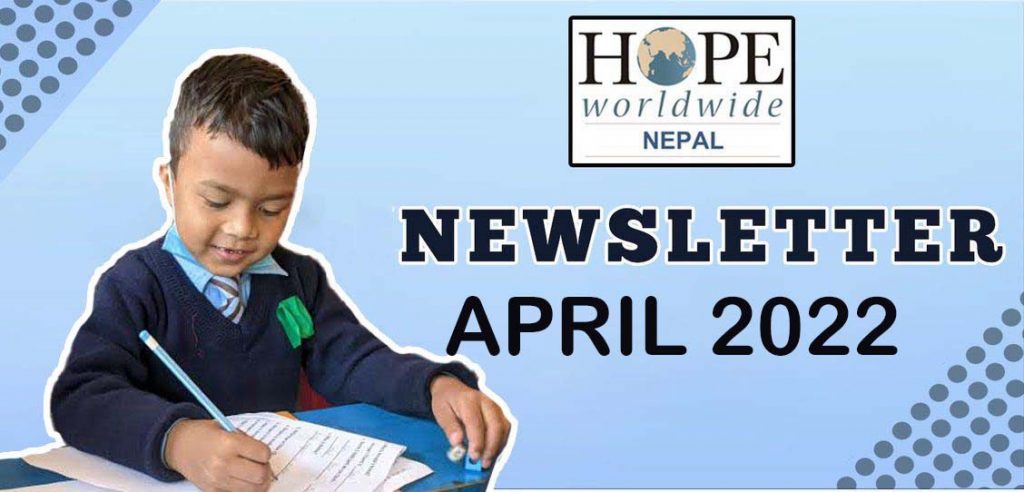 NEWSLETTER APRIL 2022





Back in Person!The students of the Vidhyashram school took their final exams. Our fifth grade graduates are now moving on to secondary schools in the area, many on scholarships to very good private schools thanks to the generosity of our donors.After a two-week break the new session has now started, and brand new students have been added to the nursery class. It is so encouraging to see their little faces eager to learn.


Dipesh, a Star Student


Like all of our students, Dipesh's family has serious financial challenges. They come from a village in rural Nepal. In fact Dipesh's father still lives in the village. Dipesh's mother works night shifts, so when Dipesh comes back from school, he is on his own.Dipesh has just graduated fifth grade at the top of the class. He is a brilliant student. He also shows incredible character. Due to the family's financial challenges, he has to work and earn money after school. He delivers donuts to various bakeries in the area. After that, he has to cook his own dinner before spending a few hours on his homework. In spite of these challenges, Dipesh is an excellent student, and always has a ready smile on his face.Dipesh is now entering secondary school on scholarship. We are confident he will follow in the footsteps of so many previous students who are excelling in their further studies.


New Water Tank and New Greenhouse



An underground water tank to meet the needs of the school.Unfortunately water is a scarce resource in Kathmandu. It is not unusual to not have water for two weeks at a time. This really affects the running of the school. The good news is that we now have a large underground water tank, ensuring that the school never runs out of water!A greenhouse at the Chhaimale village center.Now that the pandemic is over, we can re-start the production of pear candy at the small factory in the village center.We needed a greenhouse to be able to dry the fruit. Now we are ready for the pear season!!! The great news is that the pear factory will help support the vocational training program at the village center, so the aim is for the center to be 100% self-sustained financially.

We Have a New Program Manager!




We are very excited to announce that Diwas Rathod is HOPEww Nepal's new program manager. Diwas has worked for HOPEww for many years as our IT specialist and computer classes instructor. He has a thorough knowledge of the programs, and is already doing an amazing job! More great news to follow in our next newsletter!

Mark Templer is climbing Mera Peak to Raise Funds!


From April 28 to May 12, 2022 Mark Templer will be climbing Mera Peak, a 6,476 meter high mountain in the Himalayas. Mark's goal is to raise $6,476 through his trek, $1 for every meter climbed, for the Asha Vidhyashram School of HOPE worldwide Nepal !The funds raised would allow HOPEww Nepal to hire a principal and pay for his/her salary for a whole year, as well as send our teachers for proper training. If we collect more, we will use the extra funds to buy computers for the school.Mark will send updates throughout the trek.This is the link to donate: https://climbfornepal.causevox.com/

If you would like to donate:Canadian Citizens: (In the drop down menu under "Donate to" please choose "Nepal Programs")US citizens: https://hopeww.kindful.com/?campaign=275470)UK citizens: https://www.hopeworldwide.org.uk/give/ (In the drop down menu choose Kathmandu School or Women's Empowerment Nepal)ALL OTHERS :BANK NAME: NEPAL INVESTMENT BANK LIMITED
BANK ADDRESS: PUTALISADAK, KATHMANDU, NEPAL.
ACCOUNT NAME: HOPE WORLDWIDE
ACCOUNT NUMBER: 01205030120565
SWIFT CODE: NIBLNPKT

RESIDENTIAL ADDRESS: BALAJU, BOHORATAR-16,
KATHMANDU, NEPAL.
(+977 985 1002789, Ramesh Hughes)Contact information:HOPE worldwide Nepal Jamacho Marg, Boharatar, Ward No.16 Email: hopeww.kathmandu@gmail.com Phone: +977 1 5102185 Phone: +977 1 5102185 Post Box No. 15142, KPC-551 Balaju, Kathmandu, Nepal.