Updates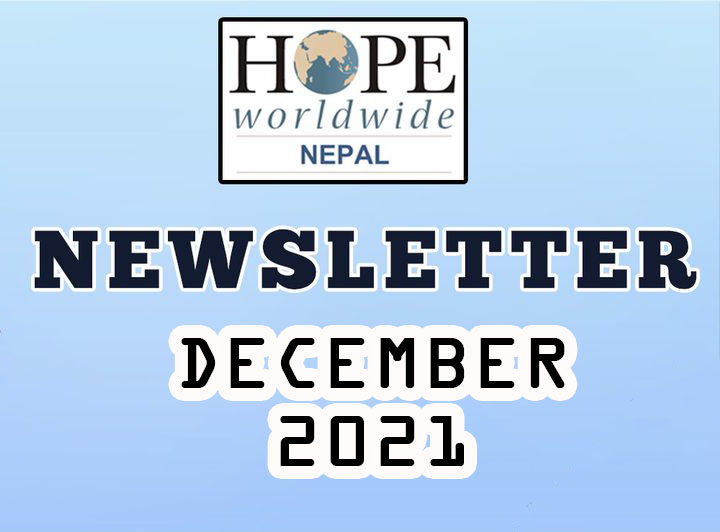 NEWSLETTER DECEMBER 2021


Volunteer Month!
The month of December saw a lot of volunteers help at the school. We had both local and foreign volunteers. On Sunday December 5 a group of about 20 local volunteers came and taught the children, cleaned the gutters of the building, played sports, organized the library, helped write this newsletter, served in the administrative office, etc. Now that COVID19 restrictions have eased up, we have resumed our monthly first Sunday of the month volunteer opportunity. It is so encouraging to see students, church members,
embassy personnel, come and serve the children and the community.From December 18th to January 1, a group of about 40 international Volunteer Corps participants are working at the school and vocational training center in Kathmandu, as well as at the Chaimale Center of HOPE in a village two hours outside of Kathmandu. The group, whose ages range from 15 to 65, came from the US, Canada, the UK, Lithuania, Nigeria, and Australia. They are teaching children at the school, training young people in IT skills, renovating and beautifying the school, distributing water filters and training the community in how to use them, cleaning and fixing the homes of our students, teaching health and hygiene classes, helping in the office, etc. We are so grateful for their hearts to sacrifice and spend Christmas and New Year serving our programs. In 2022 we will have two Volunteer Corps in Kathmandu, one in July and one in December. For more information and to apply: https://www.hopeww.org/hvc.



Meet Ganesh!

Ganesh Lamichhane is a former student of the Asha Vidyashran (HOPEww) school. He currently works in the United States after completing his degree in computer science. His parents were forced to leave their village of Nuwakot 24 years ago due to poverty. They dreamed of a bright future for their children in Kathmandu. Ganesh was just five years old then. His father started working as a labourer. He was barely earning US $2 per day. He could not afford to send his children to school. When his parents heard about the HOPEww school, they approached us with great expectations. Ganesh was enrolled in the school in the nursery class in 2002.Ganesh was a bright and hardworking student. After finishing fifth grade he received a scholarship to one of the best secondary schools in Kathmandu. He then went to university. He worked hard and completed his bachelor's degree in management . Soon after he got the opportunity to study in the United States. Ganesh is so grateful and says, "I want to thank HOPEww for providing me such a strong foundation. I will forever be thankful."


Exam Season Over!Exams are a big deal for our students. Having a chance at a great education is not an opportunity to be wasted. Even our youngest pupils understand the importance of studying, as it is the open door out of extreme poverty. Most of our students come from migrant families who moved to Kathmandu in search of a better life. Their parents were driven by desperation and the school provides an incredible opportunity for their children. We are always amazed at the focus and determination of our young students. They take pride in their school and work hard for their exams. So many of them are very bright and go on to gain a great education in secondary school and university.We are also so thankful for our staff and teachers, who instruct the children with dedication in less than ideal conditions.Enjoy a few photos of the children and parents receiving their exam results.






If you would like to volunteer or contribute to the programs of HOPEww Nepal, please email hopeww.kathmandu@gmail.comIf you would like to donate:US citizens: https://hopeww.kindful.com/?campaign=275470)UK citizens: https://www.hopeworldwide.org.uk/give/ (In the drop down menu choose Kathmandu School or Women's Empowerment Nepal)ALL OTHERS :BANK NAME: NEPAL INVESTMENT BANK LIMITED
BANK ADDRESS: PUTALISADAK, KATHMANDU, NEPAL.

ACCOUNT NAME: HOPE WORLDWIDE
ACCOUNT NUMBER: 01205030120565
SWIFT CODE: NIBLNPKT

RESIDENTIAL ADDRESS: BALAJU, BOHORATAR-16,
KATHMANDU, NEPAL.
(+977 985 1002789, Ramesh Hughes)Contact information:HOPE worldwide Nepal Jamacho Marg, Boharatar, Ward No.16 Email: hopeww.kathmandu@gmail.com Phone: +977 1 5102185 Phone: +977 1 5102185 Post Box No. 15142, KPC-551 Balaju, Kathmandu, Nepal.