Updates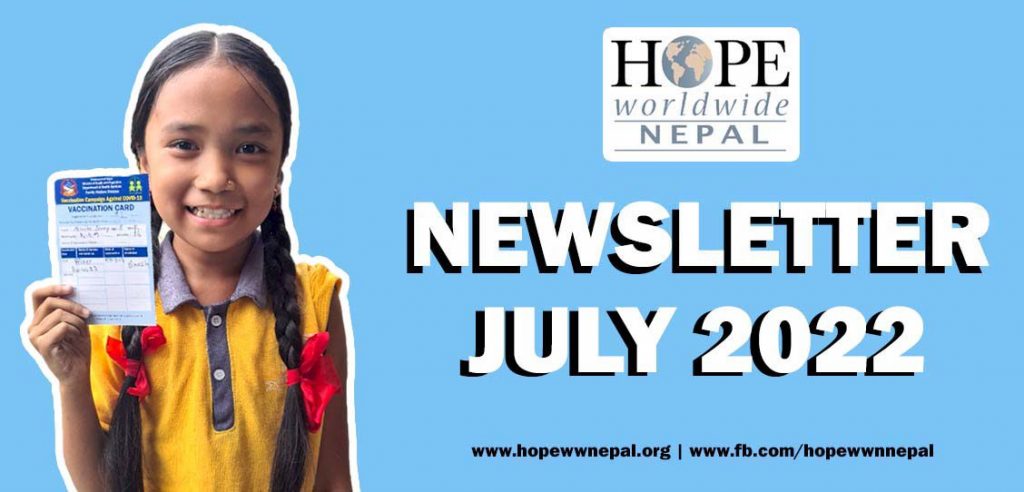 NEWSLETTER JULY 2022
HOPE
worldwide
Volunteer Corps.

At the beginning of July 2022, HOPE worldwide Nepal welcomed a HOPE worldwide Volunteer Corps group of 35 participants from various countries for 10 days to serve at the Asha Vidhyashram School and the Chhaimale Village Center. The volunteers from Nepal, Canada, the U.S., Australia, England, India, and Turkey first arrived at the school to teach the students, renovate classrooms, and run a successful medical camp. The volunteers then traveled two hours outside of the city to Chhaimale, where they distributed water filters, conducted water filter training and surveys, beautified the center, and facilitated another medical camp.The medical camps at the school and Chhaimale village center served the local communities by providing checkups, medications and health information to nearly 500 people in just four days! The service of the volunteer group was greatly appreciated and our programs were successful because of their contributions.

HOPE worldwide Service Corps




This summer the Asha Vidhyashram School in Kathmandu welcomed two volunteers for HOPE worldwide Service Corps. The HOPE worldwide Service Corps allows participants to live locally and serve in Nepal for an extended period of time. Renette arrived from Namibia in late May and Kimi arrived from the U.S. in late June. During their time volunteering with HOPE worldwide Nepal they provided support to the school staff by helping the students practice their English skills. In July, they traveled with the HOPE worldwide Volunteer Corps to the Chhaimale HOPE worldwide Center to assist with water filter distribution and the medical camp. They also helped with the vocational training by conducting English classes for the local community members. It is amazing to have long-term volunteers that are willing to take the time to serve our various programs.

Financial Workshop in Chhaimale


From July 12th to July 18th the HOPE worldwide Chhaimale Village Center conducted a financial workshop to provide training for the village locals. The training focused on equipping the students with computer skills that will allow them to secure jobs in the local government's financial institutions. As technological skills become more prevalent in the community, HOPE worldwide Nepal strives to give locals the tools they need to be successful.

Vaccinations!




On July 26th all our children received their second Pfizer Covid doses. All students and staff are now fully vaccinated. We are proud of our school for prioritizing health and taking steps to prevent the spread of Covid!
If you would like to donate:
Canadian Citizens: https://donate-can.keela.co/HOPEworldwideCanada (In the drop down menu under "Donate to" please choose "Nepal Programs")
US citizens: https://hopeww.kindful.com/?campaign=275470)
UK citizens: https://www.hopeworldwide.org.uk/give/ (In the drop down menu choose Kathmandu School or Women's Empowerment Nepal)
ALL OTHERS :BANK NAME: NEPAL INVESTMENT BANK LIMITED
BANK ADDRESS: PUTALISADAK, KATHMANDU, NEPAL.
ACCOUNT NAME: HOPE WORLDWIDE
ACCOUNT NUMBER: 01205030120565
SWIFT CODE: NIBLNPKT


RESIDENTIAL ADDRESS: BALAJU, BOHORATAR-16,
KATHMANDU, NEPAL.
(+977 9823619287, Diwas Rathod)Contact information:HOPE worldwide Nepal Jamacho Marg, Boharatar, Ward No.16 Email: hopeww.kathmandu@gmail.com Phone: +977 1 5102185 Phone: +977 1 5102185 Post Box No. 15142, KPC-551 Balaju, Kathmandu, Nepal.