Updates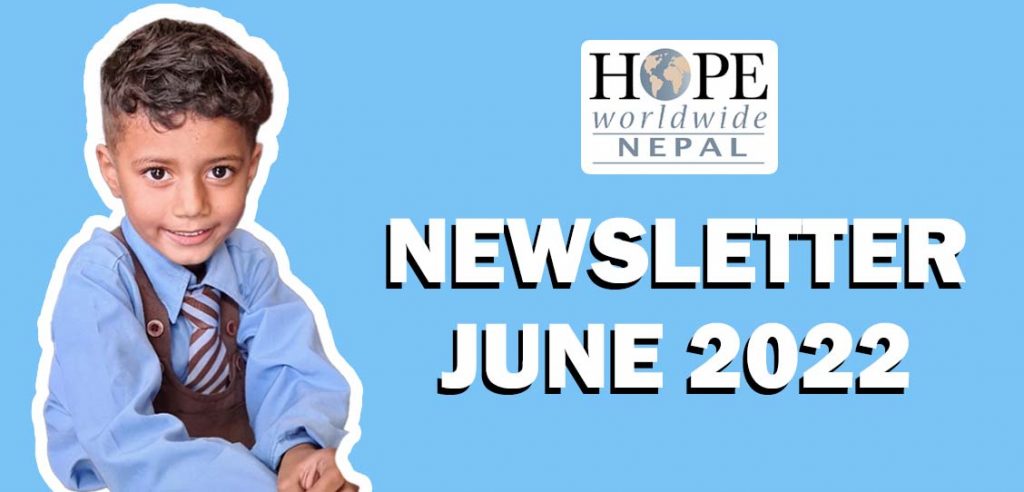 NEWSLETTER JUNE 2022
Amazing and Resilient Students!


Yuvraj Thapa had a rough start in life. When he was a little child in his native village, his mother passed away from cancer. His father succumbed to alcoholism, and at the age of seven, Yuvraj had to leave school and start working at a roadside tea stall to support his family. Unfortunately, child labor is still very common in Nepal. His father used to beat him badly on a daily basis. As a result, Yuvraj developed a speech impediment.In 2014 Yuvraj's aunt brought him to Kathmandu and enrolled him in the HOPEww school. In spite of his speech difficulties and his late start in school, Yuvraj worked very hard. He was very determined to succeed. He ended up doing really well in his studies.After 5th grade he received a scholarship to an excellent secondary school, where he continued to thrive. He recently passed his 9th grade exams with flying colors, receiving a A+ mark, which is outstanding. Yuvraj wants to become an engineer.

Distance Volunteers



Dr Nnenna Franciamore and her husband James, along with their three children went on a Volunteer Corps to Kenya in 2019. This month they will lead the Daytona Beach Volunteer Corps in Florida. They are also involved in their own community in the Bronx, New York, mentoring teenagers in addition to their own jobs as educators.Recently Nnenna heard that the teachers at the Asha Vidhyashram school needed further training. That is Nnenna's specialty. She reached out and offered to train our teachers online for free as a volunteer. We were thrilled. Since then, Nnenna had conducted several workshops for our teachers, and we are so very grateful!

Sign Up for the December 2022 Nepal Volunteer Corps!!!




We have amazing news! This December we will have two very special guests on our Christmas Volunteer Corps – Dr Douglas Jacoby and his wife Vicki will join our group of volunteers to provide some in-depth teaching on the ministry of Jesus. The trip will be a mix of great teaching and heart-changing engagement with the HOPEww programs in Kathmandu and the village of Chaimale.This is a family-friendly program. Volunteers of all ages and backgrounds are welcome. We will celebrate Christmas together in Kathmandu with the children of the Asha Vidhyashram school, and new Year with the community of Chaimale.Do not delay in signing up, as the trip is already half-full. We have volunteers coming from several countries, and it promises to be an unforgettable time!https://www.hopeww.org/nepal2hvc
If you would like to donate:Canadian Citizens: https://donate-can.keela.co/HOPEworldwideCanada (In the drop down menu under "Donate to" please choose "Nepal Programs")US citizens: https://hopeww.kindful.com/?campaign=275470)UK citizens: https://www.hopeworldwide.org.uk/give/ (In the drop down menu choose Kathmandu School or Women's Empowerment Nepal)ALL OTHERS :BANK NAME: NEPAL INVESTMENT BANK LIMITED
BANK ADDRESS: PUTALISADAK, KATHMANDU, NEPAL.
ACCOUNT NAME: HOPE WORLDWIDE
ACCOUNT NUMBER: 01205030120565
SWIFT CODE: NIBLNPKT

RESIDENTIAL ADDRESS: BALAJU, BOHORATAR-16,
KATHMANDU, NEPAL.
(+977 9823619287, Diwas Rathod)Contact information:HOPE worldwide Nepal Jamacho Marg, Boharatar, Ward No.16 Email: hopeww.kathmandu@gmail.com Phone: +977 1 5102185 Phone: +977 1 5102185 Post Box No. 15142, KPC-551 Balaju, Kathmandu, Nepal.