Updates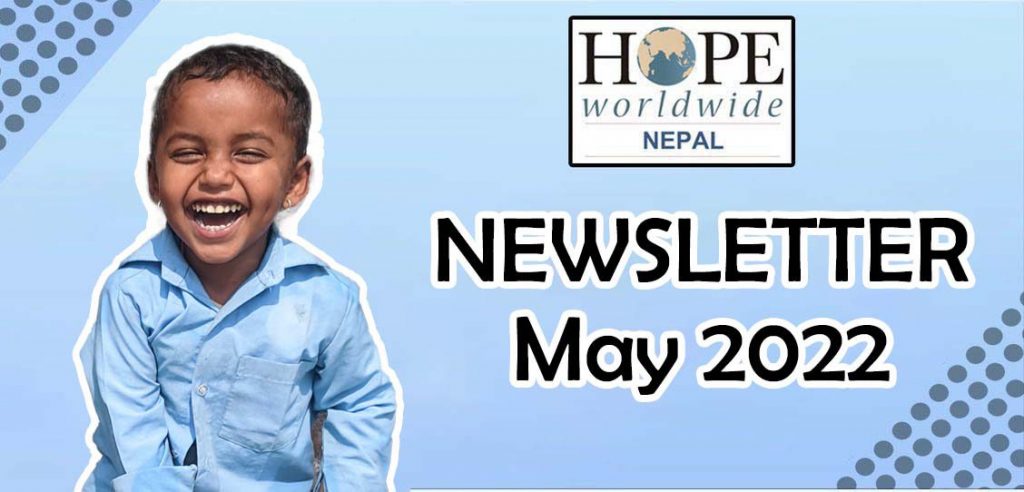 NEWSLETTER MAY 2022

Annual Day
On Sunday May 15 we celebrated our Annual Day at the Asha Vidyashram school in the presence of the HOPEww Nepal board, former students, and volunteers. The children performed dances, the HOPEww board members distributed prizes, and one of our former students shared about the impact the school has had on her life. It was wonderful to be able to celebrate after two years of pandemic!

Inauguration of the Women's Empowerment Program



On the same day, we also inaugurated our brand new Women's Economic Empowerment Program "Seeds of HOPE".The women of the community will receive three-month training courses in professional skills such as tailoring or beauty culture. They can then apply for a microloan to start their own businesses.Thank you so much to our generous donors who made this dream possible! We are very excited about this program.

Mark Templer Climbs Mera Peak and Raises Funds for the School


From April 28 to May 12 Mark Templer climbed Mera Peak, a 6,476 meter high mountain in the Himalayas. Mark's goal was to raise $6,476 through his trek, $1 for every meter climbed, for the Asha Vidhyashran School of HOPE worldwide Nepal ! Mark ended up raising over $10,000! We are very grateful to everyone who contributed! The money raised will help us hire a school principal, train the teachers, and purchase much-needed computers.Mark lives in Kathmandu and he loves volunteering at the school. Formerly the CEO of HOPEww in South Asia, he was instrumental in starting the work in Nepal.

More and More Families Serve on Volunteer Corps!
It is so wonderful to see families travel and engage together with communities around the world! What valuable lessons we can teach our children as they grow up in a materialistic world!John and Alisa Sparks served on the Nepal December Volunteer Corps, and this is what they had to share:"We had the opportunity to go on the trip to Nepal. We worked side by side as a family at the HOPEww Asha school. We were amazed at the strong hearts and capabilities of the great Nepalese people. We have returned from the trip with hearts more eager to serve and meet the physical and spiritual needs in our own community.

Spend This Coming Christmas and New Year Serving in Nepal!
Two weeks (Dec 21 to Jan 4) "on top of the world," serving the HOPEww school, vocational training center, and women's empowerment program in Kathmandu in Week 1 and the new Center of HOPE in Chaimale in Week 2, a program started in a village two hours outside of Kathmandu after the 2015 earthquake.This trip will be a combination of service and teaching. Douglas Jacoby, renowned Bible teacher and author, will come on the trip and teach lessons on the ministry of Jesus throughout the program. An opportunity not to miss!This program is open to all ages. For more information and to apply: https://www.hopeww.org/nepal2hvcIf you would like to donate:Canadian Citizens: https://donate-can.keela.co/HOPEworldwideCanada (In the drop down menu under "Donate to" please choose "Nepal Programs")US citizens: https://hopeww.kindful.com/?campaign=275470)UK citizens: https://www.hopeworldwide.org.uk/give/ (In the drop down menu choose Kathmandu School or Women's Empowerment Nepal)ALL OTHERS :BANK NAME: NEPAL INVESTMENT BANK LIMITED
BANK ADDRESS: PUTALISADAK, KATHMANDU, NEPAL.
ACCOUNT NAME: HOPE WORLDWIDE
ACCOUNT NUMBER: 01205030120565
SWIFT CODE: NIBLNPKT


RESIDENTIAL ADDRESS: BALAJU, BOHORATAR-16,
KATHMANDU, NEPAL.
(+977 985 1002789, Ramesh Hughes)Contact information:HOPE worldwide Nepal Jamacho Marg, Boharatar, Ward No.16 Email: hopeww.kathmandu@gmail.com Phone: +977 1 5102185 Phone: +977 1 5102185 Post Box No. 15142, KPC-551 Balaju, Kathmandu, Nepal.