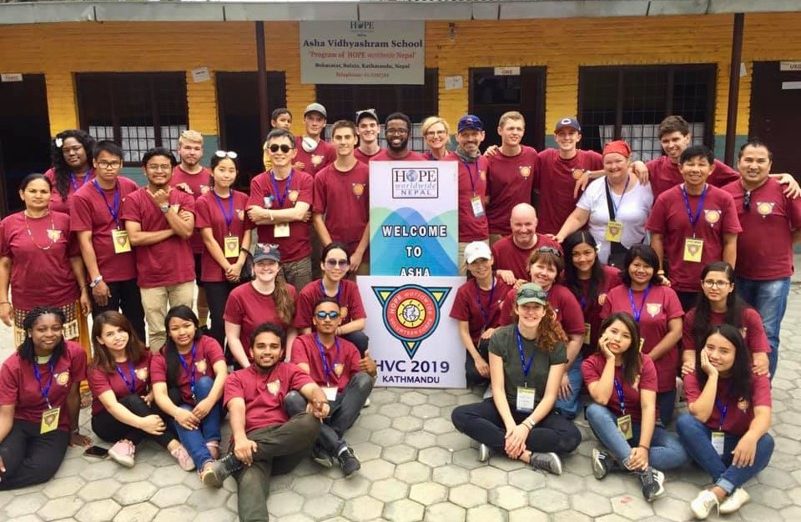 HOPE worldwide Volunteer Corps'  main purpose is Serve the communities badly affected by material poverty; Volunteer's can  teach children, train teachers, mentor youth, rebuild areas that have felt the impact of natural disasters,  develop sustainable agriculture programs, offer outreach to refugees,  serve those without shelter & seniors, and volunteer in orphanages. 
Our programs are expansive and meet a multitude of needs across the globe. Our philosophy is one of mutuality and respectful service. Our volunteers go in humility, striving to learn from the communities they serve, and gaining an understanding of other cultures.
Get involved !!!
We recognize that contributions of time and talent are just as important as financial contributions. We, thus, encourage people to contribute their time by making a conscious effort in participating in our programs to accelerate social and economic change in our country.
Volunteers are required to teach the children something more than what is in the books. We require volunteers for our different programs. Those who are enthusiastic and can help the children bring out their latent talents.
One can volunteer on the following issues:-
Note: Our children are aged between 5-13
a. Teaching from the curriculum books.
b. Talent Development (Dance, Singing, Painting, Games etc)
c. Counseling: spending time with children and parents.
d. English Conversation.
e. Health related issues of the children: hygiene, dental etc.
f. Designing of Documents.
g. Computing
h. Vocational Training
i. Training in creative exercises

Outdoor Activities:-
– Football/Soccer 1 day to 3 months Badminton, BasketBall: 1 day to 3 months
– Picnic activities: Visit to the  palaces, forts, zoo, water park, etc., 1 time activity
Classroom Activities:
– English speaking skill sessions 1 day to 3months
– Role playing activities, audio, video presentation
– Personality development session/s 1 time activity
– Movie with the kids 1 time activity
– Dance activity/Singing/action songs 7 days to 1 month
– After school tuitions for the student (subject Nepali/English/Maths) 3        months to 1 year
– Arts and craft 7 days to 1 month
– GK, Health and Hygiene session, Basic first aid 1 time activity
– Teach computer skills: MS office, Programming, Multimedia, 7 days to 1 month
Other Activities:
– Medical camp 1 time activity
– General awareness: (culture, geographies, countries, etc.,) 1 time activity
– Make wall poster, inspirational quotes, 1 time activity
– Paint the classroom, cartoons on the wall, school premises, Gardening, 2 days to 1 week
– Lessons on musical instruments, types of music. 2 days to 3 months
– Visit students family, neighbour, social interaction, 1 time activity
THINGS VOLUNTEER CAN BRING ALONG FOR THE PROGRAM ACTIVITY:
Books, Cursive hand writing, Activity books, Colouring books, General Knowledge Books, magazines, Clothes, CDs, DVDs, Atlas, Short Stories Books, Dictionary, Pictionary game, Board games, Quiz books, Encyclopedia, English Speaking Skill Books, Audio tapes, Music system, Computers, Charts, Posters, Science lab basic equipment, Indoor games/toys, Glittering pens, Crayons, Pencils, Pens, Drum for the schools, Roller skates, First aid kit, fish aquarium, etc.
CAN SPONSOR: School bags, Uniform, Water bottle, Note books, Activity books, English Grammar books, Computer, Laptop, Projector, Picnic activity.